Cell Tower Lease Rates Exposed
Two brief messages from Kevin F. Donohue,
Managing Partner at Tower Genius LLC.
| | | |
| --- | --- | --- |
| #1. Cell Tower and Cell Site Landlords, How Can We Help You? | | #2. Landlords Are Your Urban Rooftop Cell Site Rent Values At Risk? |
-----===(*)===-----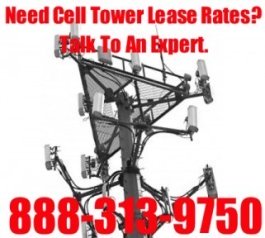 By Steve Kazella, Tower Genius LLC.
What are average cell tower lease rates in 2019? How do you calculate the correct rental price for a rooftop cell site or tower lease? Determining the value of your cell tower at your specific location can be very frustrating. What is the going rate of a cell tower lease on my  property? What should the price of my existing single-carrier or two-carrier cell tower be which is expiring in a few years? What does 2019 and beyond look like for rental prices? That depends on many factors, but the dirty little secret in the cell tower leasing industry is not the amount of rent that you are receiving on a monthly basis. The truth about cell tower lease rates, is that nobody working for the carriers or tower companies is going to tell you the  TRUTH about what your lease is really worth. And, there are a plethora of factors that come into play when determining the value and lease rate of a cell tower. Also, not all cell towers are apples to apples comparisons. And just because the guy a mile down the road is getting $30,000 or $45,000 annually from Verizon, that doesn't mean that American Tower or Crown Castle will pay you $30,000. The cell tower experts at Tower Genius can answer all of your questions.
So what's the dirty secret? 
To find out, please keep reading :-)

How Are Cell Tower Lease Rates Determined?
In 2019, we've seen cell sites paying between $100 per year (that's right, $8.33 per month, to over $156,000 yearly with Top Tier cellular carriers, Verizon Wireless, AT&T, T-Mobile, US Cellular, Cricket, and Sprint. Monthly rental rates for the "Big 3" tower management companies, American Tower, Crown Castle International and SBA Communications can range from $3,600 per year to well over $60,000 per year. All lease rates regardless of carrier or cell tower developer are site specific and vary from location to location and are based on the demand for coverage and the availability of potential locations to lease ground space, tower space or rooftop space.

This is a question that we have been asked hundreds of time, how do you know what the cell tower lease is worth? What determines a cell tower's rent value? Do you have cell tower leasing rate comps? How do you determine what the cell tower lease rates are for my location? How do you know what to ask for? Carriers and Tower Companies will often tell you that cell tower rents are based on a square foot price. It is true, that many cell tower landlords have been bamboozled into accepting this sort of pricing. We simply reject that, since wireless telecom leasing is not like traditional commercial real estate, and is not determined by a price per square foot. We have written on our cell tower blogs extensively about this, but it comes down to basic cell tower laws of supply and demand regardless of what the carriers tell you.


The cell tower experts at Tower Genius LLC have reviewed tens of thousands of cell tower leases over several decades. Here a dirty secret you may want to know. Publishing a cell tower rental lease rate map or list of locations and rental rates is deceptive and meaningless since each lease value is determined on a site by site basis, and a map means absolutely nothing.

Here is the cell tower lease rate formula used to determine cell tower rent values:
1. Demand. What is the demand for coverage? Are a lot of people in your are complaining to Verizon, T-Mobile, AT&T and Sprint about dropping calls, or do you have poor coverage?
2. Supply. What is the supply of existing sites and what are the limiting factors?
High Coverage Demand +  Low Supply of Available Sites = Higher Rent
3. Topography. What's the topography like? What's the difficulty factor involved in providing coverage to the area?
4. Zoning. What does the zoning code say in their wireless ordinance?
5. Competing Sites. What about competing existing structures? Would the building owner across the street lease to a carrier for less than you are asking, and do they have a better line of site from their rooftop?
6. Other Factors. Is it a new tower being proposed or an existing cell tower lease being extended where you can jack up the rent a bit? Is the tower a single tenant site or multi carrier cell tower? Is it a direct carrier lease or is a developer the Lessee in the agreement? 
7. Square Foot Price. This is not traditional commercial real estate, even if the cell tower carriers want you to believe pricing is based on price per square foot, they are telling you false information. This is why you need to talk to us.
The cellular carriers aren't going to explain to you how to maximize the value of your lease. Can you afford to negotiate a cell tower lease without professional guidance? Call Tower Genius Today! You will always speak to one of the owners, to either Kevin Donohue or Steve Kazella.
1-888-313-9750

Cell Tower Lease Rates Myth... Busted.
Here is some genuine honest to goodness fake news surrounding cell tower rent values being promoted by other cell tower lease experts and advisors. They way to "show you cell tower rates near you". We are calling this out as Bravo Sierra.

Cell Tower Lease Rate Myth: There is a magic cell tower database with lease rate comps for determining the value of your cell tower rent. While many experts may want to tell you a range, or show you cell tower rental prices near you, that means absolutely nothing. Just because your neighbor's cousin is getting $1,600 hundred per month from Verizon Wireless, the does not mean that SBA Towers, Crown Castle or American Tower will pay you $1,600 in the same town, same county or same state. 
Forget About Cell Tower "Comps" In Your Area.  All Cell Tower Lease Rates Are Determined Individually, On A Site By Site Basis.
Sprint leased commercial rooftop in 2000 @ 10% rent escalations per term
Verizon Wireless leased co-op rooftop in 2014 @ 3% annual rent escalations
T-Mobile leased apartment rooftop 2010 @ 2% rent escalations annually
AT&T leased apartment rooftop in 1999 @ 20% escalations per term
Verizon Wireless leased condominium rooftop in 1999 @ 4% annual rental escalations
Call Tower Genius, The Cell Tower Experts.
1-888-313-9750
Above is an example of rooftop cell site lease rates along an extremely high traffic interstate corridor in a densely populated urban area. There are multiple rooftop cell sites in the area with all major wireless carriers represented. As you can see, there is a wide range of cell tower rent rates on this map with monthly rents ranging from $1,900 per month all the up to $5,600 per month. Actually, one of these locations is a Tower Genius negotiated rooftop cell site. But why the wide range of rents? 
Myth Busted. And here's why. All of these rooftop cell sites were leased at different times and they all had different starting base rents and rental escalations. Just because a cell site landlord may be receiving $6,000 or even $7,000 monthly on a rooftop cell site lease with Verizon, AT&T, T-Mobile or Sprint, that doesn't not mean it's what they received from day one. It may be a very mature cell site at a premium location that has been on-air for 15 or 20 years and has escalated at 3% or 4% annually. There is a potential difference is rental values on direct carrier leases of urban rooftop cell sites, but those values will potentially be impacted as more small cells are deployed at the street level on lamp posts and telephone poles.
There is a difference between Verizon Wireless and AT&T cell tower lease rates where Verizon and AT&T are paying a factory smokestack owner directly, and a Verizon or AT&T cell tower rental being paid to the same factory owner where a free standing cell tower is owned or managed by American Tower Corporation, Crown Castle or SBA Communications. They are not apples to apples comparisons.
Cell Tower Lease Rates Are Only As Good
As The Terms You Negotiated.


Here are some of the dirty little secrets about cell tower lease rates that carriers don't want property owners to know about:
Wireless carriers and cell tower companies pay many of their leasing agents (site acquisition consultants) performance bonuses for bringing in leases at lower rates and with favorable terms that favor the carriers and tower companies - not you. They will swear to you up and down they don't have "bonuses" built in. Come on, who are they kidding? It's a sales organization and this is America. Of course they are incentivized to get you a less than favorable deal.
Just a 1% difference in yearly rental increases can easily equal a difference of a whopping $170,000 over the 25-year lifetime of the typical cell tower lease. Likewise a reduction in your rent can also take the same amount of future cell tower rent out of your pocket.
A wireless carrier may pay their leasing agents a few hundred extra dollars to get you to agree to this type of rate, and they have many other price points for which they pay out performance bonuses – ALL of which come directly out of your pocket in the long run.
What's The Bottom Line For Cell Tower Lease Rates?
The average cell tower rent is going to vary from county to county and state to state -- and they also differ depending on which carrier you are dealing with, they amount of pain they have (bad coverage and tough zoning laws), and their budgets.

For example, in 2018  we negotiated deals with various carriers in different counties between $19,000 per year ($1,583/month) and $39,900 per year ($3,325/month), so it really comes down to supply and demand of properties, where a carrier can locate its base station equipment, tower and antennas. We saw several mature multi-carrier towers paying landlords over $120,000 annually, and also saw multiple established rooftop cell sites paying over $6,000 monthly. Leases rental payment compounding annually are a beautiful thing!

How can you truly know if you are maximizing your location's profitability?

Talk To A Cell Tower Leasing Expert.
We help land owners and building owners maximize the rental rates that they receive on their cell tower ground leases and rooftop cellular site leases with all major wireless carriers including Verizon Wireless, Sprint (Nextel), AT&T (Cingular), T-Mobile (Omnipoint - VoiceStream), US Cellular, and Cricket (now a part of AT&T). If you have a tower owned or managed by American Tower, Crown Castle or SBA Communications, we can provide the kind of professional guidance that you need to determine the fair market value of your cell tower and help you to negotiate a fair lease or amendment with your tenant.

But even more important than the cell tower rental rates -- we pay extremely close attention to the LEASE TERMS. Yes, we've just about seen it all and can tell you without a doubt that ALL cellular site leases are heavily slanted in favor of the wireless carriers. We level the playing field. We know where there is wiggle room to negotiate, and where their isn't, where we can push the carriers to accept terms, and where we can't, and where we can squeeze them for better rates.

And no, we are not attorneys. Most lawyers know very little about cell tower lease rates and values. That's why attorneys frequently hire Tower Genius as their advisors to assist their clients. The Managing Partners of our Tower Genius LLC, Kevin Donohue  and Steve Kazella have have nearly fifty years of combined industry experience and have literally reviewed and negotiated thousands of cell tower leases over the courses of their combined careers, and can quickly and efficiently review your contract and negotiate on your behalf.
Tower Companies like Crown Castle International, SBA Communications and American Tower Corporation like to cry poverty and usually don't want to pay a rent increase in addition to revenue sharing. When you push them a little too hard, they sometimes threaten to move the tower or send it out for an "ASR" Alternative Site Review. These are usually idle threats, but that's why landlords should have their cell sites analyzed to make sure there aren't other factors such as a nearby competing tower that they can use as leverage against you in a cell tower lease negotiation.
Looking into the future of cell tower lease rates, Tower Genius believes rental prices should remain stable in 2019 and 2020. Beyond that, we are forecasting a higher potential for reduced cell tower rents for landlords if certain disruptive technologies and advances in wireless telephony, namely hundreds of thousands of small cells, are integrated into the carrier networks on a mass scale that meet coverage and namely capacity needs. In layman's terms, if they can significantly improve coverage with other technologies that work in conjunction with your cell tower, and they can possibly eventually replace your cell tower with that newer technology, eventually the carriers can get enough muscle to get you to accept a rent reduction or take down your cell site or tower. If you have specific questions about what you can do about this as a landlord, you need to call us at 1-888-313-9750 to discuss.

If you need assistance in reviewing or negotiating your lease or for questions regarding CELL TOWER LEASE RATES - CONTACT US TODAY.
Speak with a cellular site leasing expert, call us during regular business hours from anywhere inside the United States, Monday - Friday from 9:00 AM Eastern to 6:00 PM Pacific Time. We can answer your questions about cell tower lease rates or any other carrier lease related questions you have. Call Steve or Kevin today: 1-888-313-9750.
Check Out Our Cell Tower Lease Rates Blog.
Property Owners, Landlords, Do You Have Questions About Cell Tower Lease Rates?
Everything you ever wanted to know about cell site lease rates but were afraid to ask...
What Other Visitors Have Said
Click below to see contributions from other visitors to this page...

Find out from Tower Genius how we help landlords and property owners in the USA  maximize cell site lease values and get the best possible terms for:
Cell tower lease agreements
Tower lease extensions
Cell site upgrades
Small cell proposals
Lease amendments
Tower lease buyouts offers
Rooftop lease buyout offers
Rooftop cell site audits
Lease Agreement defaults
Cell tower valuations
Rent reduction solicitations
Lease Optimization Help
Lease Revenue Purchase

Verizon Wireless 

AT&T

T-Mobile

Sprint

US Cellular

SBA Communications

Crown Castle

American Tower

Vertical Bridge
Lendlease Towers, Md7
Tillman Infrastructure
Lyle Company, Black Dot
Everest Infrastructure
We Would Like To Hear From You.