Show Us Your Cell Tower Pictures.
-----===(*)===-----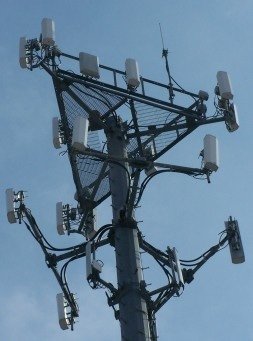 We want to see your cell tower pictures and rooftop cell site images. Cell tower hunters, we know you are out there.

Although we are a consulting firm focused on lease consulting and negotiation coaching for cell site landlords, we encourage all of our visitors to send us cell site pictures and cell tower pictures from any location.  It's easy, just upload it, tell us about where the site is located or a little bit about the cell site, and post it to our blog and after we approve the photo you image will appear on our site usually with a few hours.
Cell Tower Hunters >> Upload Your Cell Tower Pictures and Rooftop Cellular Site Images !
Are you a cell tower hunter? Do you snap pictures of cellular towers or rooftop cellular sites? You can come out of the closet, it's OK. Do you work in the industry and have a great story to share about a cellular site? Share your cellular site picture and story!

Are you an angry citizen who hates cell towers?

Are you an electrician who has to climb these things for a living?

Are you an overweight real estate site acquisition manager who has to walk up many flights of stairs every day to take pictures of rooftop cell site locations?

Are you an RF engineer who is afraid of heights?

Are you a landlord or property owner who collects thousands of dollars on their antenna lease every month?

Let's see those cell tower pictures.
What Other Visitors Have Said
Click below to see Cell Tower Pictures and Cellular Site Image contributions from other Cell Tower Hunters who have visited this page...

Questions About Cell Tower Pictures? >> Contact Tower Genius.
Tower Genius is a wireless telecommunications consulting firm that assists wireless landlords in negotiation coaching and consulting for their cell site leases in the United States.

Cell tower lease agreements
Selling Cell Tower Lease
Tower lease extensions
Cell site upgrades
Small cell proposals
Lease amendments
Tower lease buyout offers
Rooftop lease buyout offers
Rooftop cell site audits
Lease Agreement defaults
Cell tower valuations
Rent reduction solicitations
Lease Optimization Help
Lease Revenue Purchase
Transactional Coaching

Verizon Wireless 

AT&T

T-Mobile - Sprint

DISH Wireless

US Cellular

SiriusXM

Crown Castle

American Tower

Atlas Tower

Phoenix Tower PTI

Vertical Bridge
SBA Communications
Tillman Infrastructure
Lyle Company, Black Dot, Md7
Everest Infrastructure