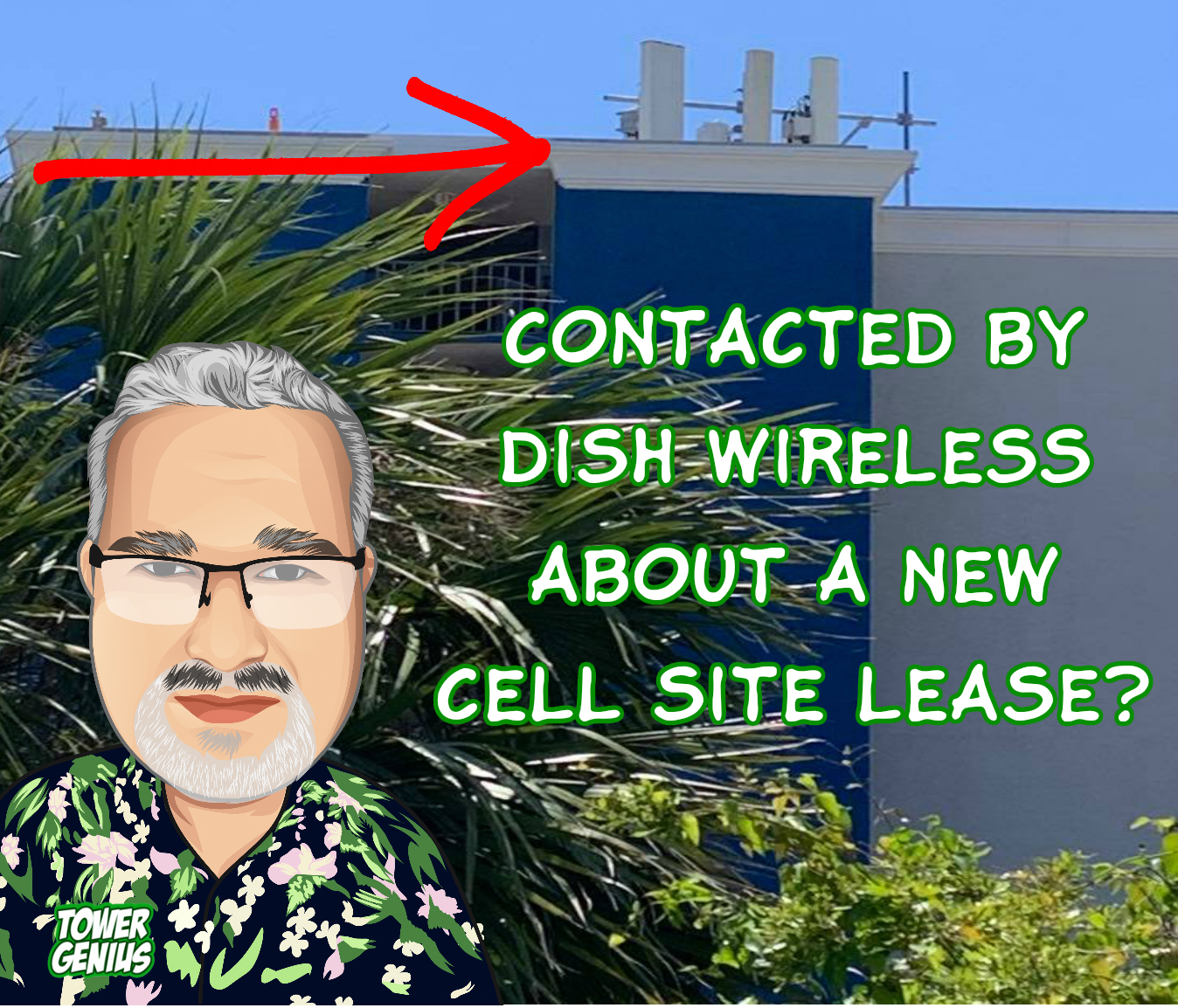 Have you received a DISH Wireless lease proposal to lease rooftop space on your building for a new DISH cell site, or to lease additional ground space next to an existing cell tower on your land? If you answered yes, you probably have questions that we can answer. DISH Network,  the satellite TV company is now also the USA's newest wireless carrier, DISH Wireless, created as a bi-product of the merger of T-Mobile and Sprint. The Federal Government needed T-Mobile to have a new competitor in the market to make the merger a reality. As a result, DISH Wireless needs to urgently play catch-up and deploy around 30,000 cell sites and cell towers over the next 5 to 7 years.  Talk to an expert. Book a 30-minute discovery call with a Partner at Tower Genius to discuss your DISH Wireless lease offer at 888-313-9750.

WHAT ARE THE RENTAL RATES FOR DISH WIRELESS CELLULAR ANTENNAS IN NYC, MIAMI, ATLANTA, BOSTON, DALLAS, LOS ANGELES, DENVER, PHILADELPHIA, CHICAGO, PHOENIX, SAN FRANCISCO? TALK TO TOWER GENIUS.
The majority of new DISH Wireless leases will be with major tower companies where DISH cell sites will be deployed on existing cell towers owned by American Tower, Crown Castle, Vertical Bridge, Phoenix Towers, and SBA Communications. They have signed master lease agreements with the big towerco's,  but it is rumored that DISH Wireless will also be building several thousand new cell towers where they have a need, and will be contacting thousands of property owners, and they will also utilize water towers and electrical utility transmission towers or substation properties, especially in difficult cell tower zoning residential areas.
And the bulk of newly proposed DISH Wireless rooftop cell site antenna deployments will be happening at existing cell site locations in urban areas, where decommissioned Sprint antenna sites from the T-Mobile Sprint merger have been offered up to the the new carrier DISH. 
DOES DISH WIRELESS WANT TO LEASE ROOFTOP SPACE ADD ANTENNAS AT YOUR FACILITY? HOW MUCH ANNUAL RENT SHOULD YOU CHARGE THEM? TALK TO TOWER GENIUS.
As we have been told by not one real estate site acquisition consultant, that there are "very smart people" running real estate and leasing at DISH Wireless, who are so smart, that they are members of MENSA, and that we should advise landlords to take that into consideration before they submit any lease terms or business terms. This is a subtle "Jedi mind trick" to get landlords to accept a horribly lopsided and low initial rental offers DISH Wireless is writing into their cell tower lease agreements.
As a rule of thumb, DISH Wireless wants to pay as little as possible on their rooftop cell site lease rentals, and we've seen offers as low as $300 per month for ground space and $1,000 per month on New York City rooftops where there are multiple competing adjacent rooftops and they are trying to leverage the current economic downturn and find desperate landlords willing to take a low ball offer.  All DISH Wireless cell site lease rates are determined by the attributes of that specific location, such as availability of competing rooftop sites, topography, access and zoning regulations.

Tower Genius Partners Kevin Donohue and Steve Kazella have reviewed dozens of DISH Wireless cell site lease agreements over the past year since DISH Network began approaching building and property owners with lease agreements, and we know what DISH will and typically won't agree to in their telecommunications agreements. We can help you maximize your DISH Wireless cell tower lease offers, and save your time money and frustration of trying to figure out the values on your own. Book a 30-minute discovery call now.