Tower Genius Fees
-----===(*)===-----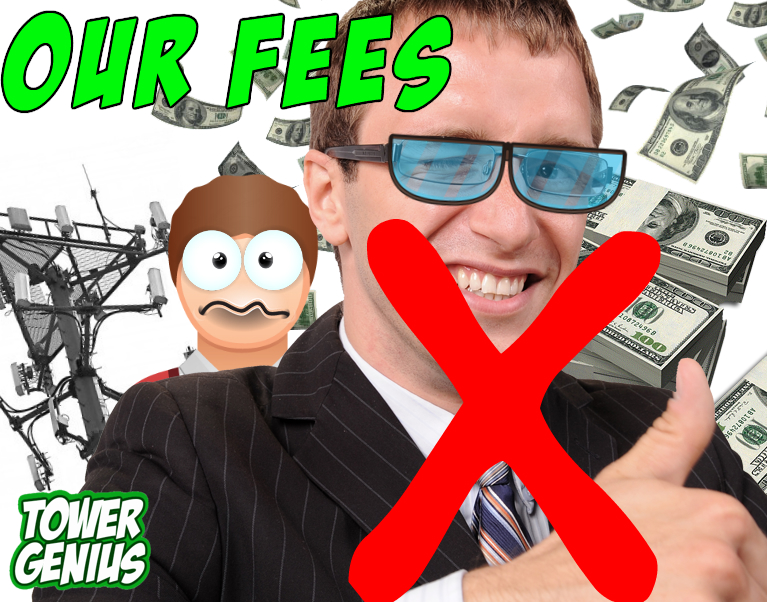 OUR FEES... because we do not work for free.
People ask us every day...
HOW MUCH DO YOU CHARGE? What are Tower Genius' fees? How much do I have to pay to hire you? Do you charge an hourly rate? We will usually take a quick look at your lease for free. If you hire us you can almost always count on a paying an initial $500 non-refundable deposit. We charge a small retainer fee to weed the tire kickers and only work with serious people. There are literally 20 different types of services we provide listed below. That is why we don't publish our specific pricing. Sorry but to find out specific fees we will need to speak with you, and ask you a few questions. When you call us you will always speak with one of the two business owners either to Kevin Donohue or to Steve Kazella. Our fees are not a secret, we will tell you. Just give us a call at 1-888-313-9750. 
Contact Us For Our Fees Today on Services Listed Below:
New cell tower proposals from carrier or developer 

Cell tower lease amendments, extensions, expiring leases 

New rooftop macro cell site proposals 

New rooftop or structure mounted small cell proposals 

Lease review / site review advisory consulting 

Rooftop cell site management proposal advisory  

Cell tower lease rate valuation to determine rental 

pricing

Wireless facility lease review, zoning reports, competitive site analysis

Equipment upgrade valuation advisory  

Rooftop site lease compliance audit advisory to trigger renegotiation

Advisory on sale of tower easements and rooftop easements

Evaluation advisory of lease buyout offers

Evaluation advisory of lease extension offers

Evaluation advisory on rent guarantee, rent reduction offers

Landlord-tenant dispute mitigation

On-Site temporary or permanent tower relocation project management

Wireless infrastructure / industry consultations for 

investment

 funds, banks

Sourcing of temporary cell towers for special events  

Wireless disaster emergency response advisory

Municipal wireless consulting services and 5G ordinance development
Let's paint a pictures about fees and prices.


What tastes better?
Eating a $3 Frozen Microwave Hamburger? 
Or a Sizzling $350 Dry Aged Gourmet Kobe Steak?
If you are really hungry and wish to reward yourself, and your choice of meal will impact you in a good way financially for decades to come, are you going to eat something cheap or have a meal that you will savor for years to come or even a lifetime?

Sure, you can eat beef anywhere. If you are really hungry, you can settle for a $3 hamburger or you can order a $350 mouth-watering steak. They both come from a cow but there is a huge difference in the value of the end product that you are getting.
Eating cheap frozen microwave slider burgers wrapped in plastic is not even remotely in the same universe as eating a filet mignon dry aged for 28 days prepared to perfection at the Old Homestead Steakhouse in New York City.
Getting a solid and fair deal on a new cell tower lease when extending or amending an existing cell tower lease is of critical importance. Don't leave it to chance, because sometimes a cell tower lease expert just isn't enough. You need a Telecom Lease Genius. And remember, you get what you pay for. 
Depending on what service you require, we typically charge an initial $500 deposit or retainer fee for most of our telecommunications consulting work.  Since we offer about 15 different services, we can answer your specific pricing questions with a 5-minute phone call.
Our fees and rates are straightforward and ridiculously affordable. Since we offer many services, we need to ask you a few specific questions, but we will tell you our fees generally within the first 5 minutes of talking to you because like you, we don't want to waste our valuable time either. Find out what we can do for you. Talk to the cell tower lease experts at Tower Genius today.
We are the USA's Premier 
Cell Site Lease Consulting Services Firm.
Maximize The Value Of Your Cell Tower Lease.
Make Sense Of Confusing Cell Tower Offers.
Speak With One of Our Partners.
Call Steve Kazella or Kevin Donohue at 1-888-313-9750.

Verizon Cell Site Landlords 
T-Mobile Cell Site Landlords 
AT&T Cell Site Landlords 
Sprint Cell Site Landlords
DISH Wireless Landlords
American Tower Landlords
Crown Castle Landlords
SBA Communications Landlords
Vertical Bridge Landlords
PTI Phoenix Tower Landlords
Atlas Tower Landlords
Tillman Infrastructure Landlords 
Diamond Communication Landlords

Tower Genius, that's who.
Find out from Tower Genius how we help landlords and property owners in the USA  maximize cell site lease values and get the best possible terms for:
Cell tower lease agreements
Selling Cell Tower Lease
Tower lease extensions
Cell site upgrades
Small cell proposals
Lease amendments
Tower lease buyouts offers
Rooftop lease buyout offers
Rooftop cell site audits
Lease Agreement defaults
Cell tower valuations
Rent reduction solicitations
Lease Optimization Help
Lease Revenue Purchase
Transactional Coaching

Verizon Wireless 

AT&T

T-Mobile - Sprint

DISH Wireless

US Cellular

SBA Communications

Crown Castle

American Tower

Atlas Tower

Phoenix Tower PTI

Vertical Bridge
Lendlease Towers, Md7
Tillman Infrastructure
Lyle Company, Black Dot
Everest Infrastructure
We'd Like To Hear From You.
(We value your privacy. Your information will never be shared with any third party.)