Tower Genius Blog Directory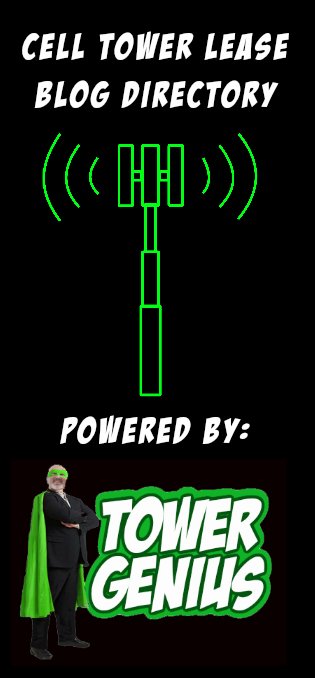 TowerGenius Blog Directory
Thanks for visiting the best cell tower lease blog directory on the planet. At Tower Genius we are here to answer your cell site questions and provide the answers you need from the industries leading experts. You have cell tower lease questions and you are not alone. Back in 2008 we launched our cell tower lease consulting business after building our first cell tower blog when we noticed that building landlords in New York City had a lot of questions and also had a lot of problems with their cell sites related to T-Mobile, Verizon Wireless, AT&T and Sprint. We also started getting TONS of questions from the "flyover states" from property owners like farmers and churches who were getting threatening cell tower rent reduction letters from the cell phone carriers, that if they did not give rent reductions on their cell tower leases, they would take down the cell towers and move them. We saw that there was a huge demand for information and people had questions about their cell tower leases. What is the cell tower lease rate for my Verizon lease? How much is my AT&T cell tower lease worth? We launched this website in 2009 and started blogging and immediately started getting cell site landlords contacting us. Our "ask the expert" blogs were even found by the NY Times who interviewed us for their newspaper about problems NYC cell site landlords were having.  Since then we have answered thousands of cell tower questions for people just like you. 
-----===(*)===-----

TowerGenius Blog Directory:
Cell Tower Blogs for
Cell Tower Landlords and Cell Site Lessors.
| | |
| --- | --- |
| Tower Genius' "TowerGenius Blog" is actually a collection of 15 wireless industry cell tower micro-blogs written with the cell tower landlord in mind. We have answered hundreds of reader and visitor questions on the Tower Genius Blog. Below you will find a cell tower lease blog directory of all of our active cell tower blogs and cell site lease blogs to help you find the information that you are looking for. You won't find a better collection of cell tower blogs and cell tower leasing blogs for landlords, anywhere. But be careful, you might easily end up spending a few hours reading all of these post on the TowerGenius Blog.  | I wonder what the Tower Genius Blogs have to say about this? |
Thank you, and enjoy!
Steve Kazella, Telecom Lease Genius, Cell Tower Blogger, Tower Genius Blog Editor and Cell Tower Tree-Pole Hugger
Tower Genius, LLC
TowerGenius Blog Directory:


A List of 15 Cell Tower Leasing Blogs




Moderated By Our Team.
Get Your Cell Tower and Rooftop Cell Site Lease Questions Answered.
Still Did Not Find What You Were Looking For On Our Cell Tower Lease Q&A Blogs, Or Need To Talk To A Cell Tower Expert?
We offer these cell tower answers on the TowerGenius blog as a source of information for wireless landlords where you can post questions and hopefully get your cell tower questions answered. We address commonly asked cell tower issues and respond to complex cell tower related problems that landlords have with both the wireless carriers and cell tower developers and cell tower management companies. We moderate the cell tower blogs for content to make sure they are mostly family-friendly and G-rated, although sometimes we may go on a rant about something or another.
However, if after reading these wireless infrastructure questions and answers you feel that you still need to speak with a cell tower lease advisor, negotiation coach or consultant, then we would ask you to Contact Tower Genius using the linked contact form.
Business Hours:
Monday - Friday,  9AM Eastern to 6PM Central
Closed During US Federal Holidays and During Thanksgiving, July 4th, Christmas and the End of the Year.
1-888-313-9750
Cell tower lease agreements
Selling Cell Tower Lease
Tower lease extensions
Cell site upgrades
Small cell proposals
Lease amendments
Tower lease buyout offers
Rooftop lease buyout offers
Rooftop cell site audits
Lease Agreement defaults
Cell tower valuations
Rent reduction solicitations
Lease Optimization Help
Lease Revenue Purchase
Transactional Coaching

Verizon Wireless 

AT&T

T-Mobile - Sprint

DISH Wireless

US Cellular

SiriusXM

Crown Castle

American Tower

Atlas Tower

Phoenix Tower PTI

Vertical Bridge
SBA Communications
Tillman Infrastructure
Lyle Company, Black Dot, Md7
Everest Infrastructure