Cell Tower Leases Exposed
-----===(*)===-----

Cell tower leases exposed: the ugly truth about the cell tower lease industry. 
By Steve Kazella, Partner at Tower Genius LLC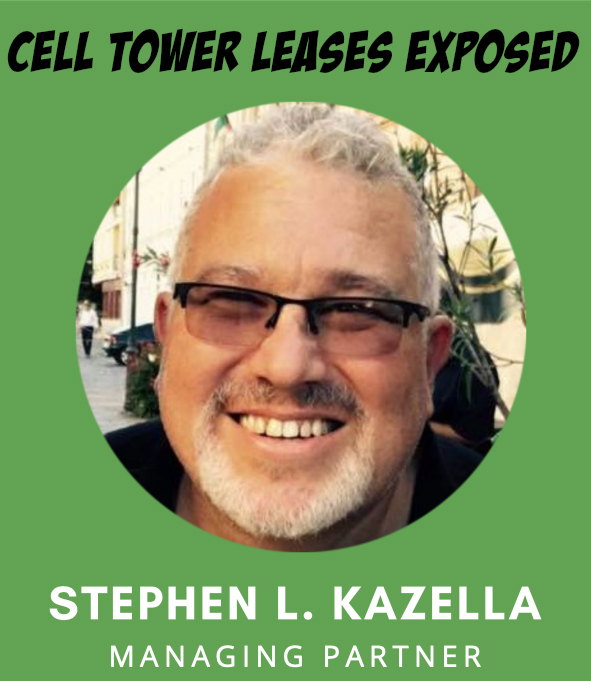 Being a cell tower landlord is a curious thing. It's one of those esoteric topics that nobody knows anything about. Trust me, I've been doing this over 16 years and made a career out of it, and there are actually very few people who understand the ins and outs of cell tower lease agreements, and who help guide property owners and landlords like we do. 
So back in about 2009 or 2010 I published a website page about "cell tower lease rates" on this website. It became incredibly popular. In fact it was the #1 top ranked page on Google for the search term "cell tower lease rates" for over four years, called "Cell Tower Lease Rates Exposed".  It is an educational page with a ton of content and information. There are well over 100 blog questions pertaining to cell tower rent values answered on the bottom of the page.  
So, a funny thing happened when on the Google page I happened to notice that "Cell tower lease rates exposed" was actually a keyword term that people were actually searching for. LOL. I meant for the website page to have some shock value for my readers, but i guess that some of my competitors liked my writing style so much they decided to copy the phrase that we coined to steal some of our traffic. 
Cell Tower Leases Exposed
Real Experts vs. Fake Content Poachers
This wasn't the first time this has happened. We also coined the phrase "leveling the playing field for cell tower landlords"  which now interestingly appears on most of our competitors' websites. 
Another thing we started noticing was the even though "TOWER GENIUS" is a registered trademark, competitors not only used it in the Google advertising keywords, we also noticed that it actually started appearing in their ad copy. The ugly truth about the cell tower lease consulting industry is that a majority of the individuals providing lease consulting services for landlords are grossly inexperienced, unqualified and their websites grossly overstate their years of experience and the amount of transactions they have been involved with. One way to verify if a company is legitimate is to Google their online reviews. You will find that many of these so-called cell tower lease experts either have no Google  business profile page at all so they do not list Google reviews, or the few Google reviews they have are completely fake and do not read like genuine cell tower landlord reviews. 
Go ahead, try it. Google us at "Tower Genius Reviews" or "Tower Genius Testimonials". And then pick the name of one of our competitors and try the same thing. 
Who would have ever thought that Googling reviews and testimonials on consultants who are experts in cell tower leases exposed the real geniuses and the real bottom feeders and copycats?
Oh well. I guess when you are the leading advocate and consultancy for cell tower and cell site landlords in the United States, we should take all this as a compliment. Don't leave your cell tower leases exposed to second rate consultants who cut corners or try to ride on the coattails of our success. 
The Partners of Tower Genius, Kevin Donohue and Steve Kazella have over 50 combined years of cell tower leasing, and wireless infrastructure development experience and have been working exclusively on behalf of property owners and cell site landlords since 2008, providing cell tower consulting and wireless lease coaching services.
Let's talk about your cell tower lease agreement, call us a 1-888-313-9750.
Cell tower lease agreements
Selling Cell Tower Lease
Tower lease extensions
Cell site upgrades
Small cell proposals
Lease amendments
Tower lease buyout offers
Rooftop lease buyout offers
Rooftop cell site audits
Lease Agreement defaults
Cell tower valuations
Rent reduction solicitations
Lease Optimization Help
Lease Revenue Purchase
Transactional Coaching

Verizon Wireless 

AT&T

T-Mobile - Sprint

DISH Wireless

US Cellular

SiriusXM

Crown Castle

American Tower

Atlas Tower

Phoenix Tower PTI

Vertical Bridge
SBA Communications
Tillman Infrastructure
Lyle Company, Black Dot, Md7
Everest Infrastructure