Molded-in Brick Wall - Tempe, Arizona
by Peabody Concealment
(Corona, CA)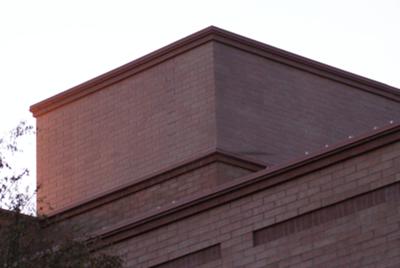 Prefabricated to ensure durability and beauty
Peabody Concealment and the receiving company were very happy with the way this concealment turned out.

This concealment, as is all concealments done by Peabody, was built prefabricated. Prefabricated designs are more durable and built in large, solid sections that come together for a quick and easy installation on the job site.

The benefit of making a prefabricated piece is that it can be easily assembled before leaving our manufacturing facility to ensure that the pieces come together seamlessly. Most companies build "on-site assembly" pieces that don't come together or align as nicely as you see here. Not only are the installation costs higher due to a longer install process, but they are not as durable in the long run.

Peabody Concealments are always built as pre-fabricated pieces to ensure that the concealment looks just like the environment it will be installed in.
Tower Genius is USA's Premier Cell Tower Lease Coaching and Consulting Firm. Find out how we help landlords and property owners in the USA maximize cell site lease values and get the best possible terms. Book a 30-minute discovery consulting call with Kevin or Steve Today.
Click Here To Schedule A 30-Minute Discovery Call.
Cell tower lease agreements
Selling Cell Tower Lease
Tower lease extensions
Cell site upgrades
Small cell proposals
Lease amendments
Tower lease buyout offers
Rooftop lease buyout offers
Rooftop cell site audits
Lease Agreement defaults
Cell tower valuations
Rent reduction solicitations
Lease Optimization Help
Lease Revenue Purchase
Transactional Coaching

Verizon Wireless 

AT&T

T-Mobile - Sprint

DISH Wireless

US Cellular

SiriusXM

Crown Castle

American Tower

Atlas Tower

Phoenix Tower PTI

Vertical Bridge
SBA Communications
Tillman Infrastructure
Lyle Company, Black Dot, Md7
Everest Infrastructure