Collapsed Cell Tower Lightning Strike
by Steve
(Tower Genius )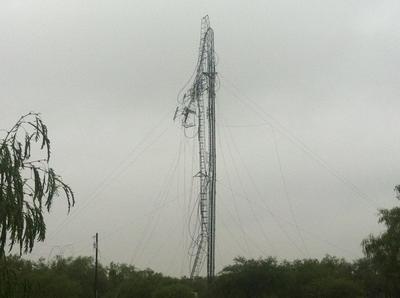 VZ tower Brownsville TX
This Verizon Wireless guyed wire cell tower was struck by lightning and collapsed into itself twice. They are designed to fall into themselves and fold up, instead of tipping over. Kudos to the engineers who designed the structure, and no one was injured according to sources at the scene.
Find out from Tower Genius how we help landlords and property owners in the USA  maximize cell site lease values and get the best possible terms for:
Cell tower lease agreements
Tower lease extensions
Cell site upgrades
Small cell proposals
Lease amendments
Tower lease buyouts offers
Rooftop lease buyout offers
Rooftop cell site audits
Lease Agreement defaults
Cell tower valuations
Rent reduction solicitations
Lease Optimization Help
Lease Revenue Purchase

Verizon Wireless 

AT&T

T-Mobile

Sprint

US Cellular

SBA Communications

Crown Castle

American Tower

Vertical Bridge
Lendlease Towers, Md7
Tillman Infrastructure
Lyle Company, Black Dot
Everest Infrastructure
We Would Like To Hear From You.