Cell Tower Leasing Information Blog
-----===(*)===-----

The Cell Tower Lease Blog provides updated content information from Tower Genius, the leading independent wireless leasing and infrastructure consulting company whose principals have been in the industry since its inception. This team of experts have held various executive and management positions in the wireless industry and have developed wireless networks for the leading wireless carriers as well as performed services for some of the nation's leading real estate development corporations. Their expertise has been sought out by major media outlets such as the New York Times, the Gannett Company, various Advanced Publications newspapers as well as Crane's New York Business.
We are the USA's Premier 
Cell Site Lease Consulting Services Firm.
Maximize The Value Of Your Cell Tower Lease.
Make Sense Of Confusing Cell Tower Offers.
***To schedule a $99 / 30-minute discovery call one of our Partners, Kevin Donohue or Steve Kazella call us anytime at 1-888-313-9750 or click on the banner ad at the top of this page or in the right hand column. If you end up hiring Tower Genius for additional coaching or consulting, we will deduct the cost of the  $99 discovery consultation from your bill. 

Jan 01, 2022
Cell Tower Lease Rates >> Wireless Industry Secrets Exposed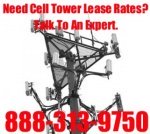 Cell Tower Lease Rates in 2022 are NOT determined by Square Feet or Numbers of Antennas, regardless of what you were told, talk to the Experts at Tower Genius.
Continue reading "Cell Tower Lease Rates >> Wireless Industry Secrets Exposed"
Tower Genius is USA's Premier Cell Tower Lease Coaching and Consulting Firm. Find out how we help landlords and property owners in the USA maximize cell site lease values and get the best possible terms. Book a 30-minute discovery consulting call with Kevin or Steve Today.
Click Here To Schedule A Call.
Cell tower lease agreements
Selling Cell Tower Lease
Tower lease extensions
Cell site upgrades
Small cell proposals
Lease amendments
Tower lease buyouts offers
Rooftop lease buyout offers
Rooftop cell site audits
Lease Agreement defaults
Cell tower valuations
Rent reduction solicitations
Lease Optimization Help
Lease Revenue Purchase
Transactional Coaching

Verizon Wireless 

AT&T

T-Mobile - Sprint

DISH Wireless

US Cellular

SBA Communications

Crown Castle

American Tower

Atlas Tower

Phoenix Tower PTI

Vertical Bridge
Lendlease Towers, Md7
Tillman Infrastructure
Lyle Company, Black Dot
Everest Infrastructure