Cell Tower Lease Buyouts
E-X-P-O-S-E-D
What's The Shocking Truth About Cell Tower Buyouts They NEVER Tell Landlords?
Welcome to our cell tower lease buyouts blog. What's the shocking truth about cash buyout offers they NEVER tell landlords? Selling your lease revenue stream can provide landlords who have cellular tenants with significant cash payouts. At the end of the day, everyone has their own reason why they may be looking to sell their cell site leases. The net present value of your cell tower lease will not equal what you could make long-term on the site, but selling your lease is truly the only way to hedge your risk. However, let the seller beware, you are now swimming in shark infested waters.

You are probably getting multiple calls and multiple offers from third party financial firms that purchase wireless leases and from tower management companies in the vertical real estate industry. Are they bona fide offers and should you consider them, or are they merely shallow attempts to get you to talk to one of their sales representatives? If your tower rent is undervalued, should you wait until your lease is nearing expiration to renegotiate the lease or speak with them about their offer now? What about advances and changes in wireless technology and future industry consolidation? How will it or won't if affect my cell tower lease? Or should you hold onto your lease and reject their offers? It can be overwhelming and confusing trying to make heads or tails out of these offers.


WARNING: Lease Buyout Shock Videos:
The following wireless industry videos contain shocking content which may be very disturbing to wireless landlords who have sold a cell tower lease without the proper guidance pertaining to lease buyouts. (It may also be difficult to watch for wireless industry experts with weak consciences, questionable business ethics, or major conflicts of interest, especially the some of the so-called independent cell tower consulting experts, cell tower lease management sharks, lease-optimizing holy-rolling cellular industry bottom-feeders and slick talking wireless wiseguys who are busy shaking down clueless municipalities.)


Need Cash For Your Cell Tower Lease?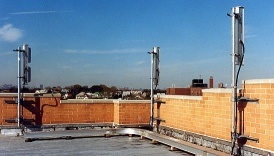 As is the case in any business where there is a large amount of money to be made quickly, such as in the case of selling cellular leases, there are boiler-room sales organizations and there are highly reputable firms offering cell tower buyouts. How can the average cell tower landlord separate the wheat from the chaff? Think of Airwave Management as your filter.
Some of these firms WILL literally rake you over the coals without the proper guidance. Make sure you don't get taken advantage of. Talk to Airwave Management about your cell site lease buyouts and call us at 888-313-9750 from anywhere in the USA.
Airwave Management is an independent landlord advocacy and cell tower lease consulting firm founded by cellular leasing industry experts with over 40 years of combined cell tower site development and leasing experience. We talk to dozens of cell tower landlords every week, and regularly review tower buyout offers to help landlords understand these proposals and maximize their transactions if they have decided to sell. Our Principals have been quoted in the Wall Street Journal, Cranes, The New York Times and other major publications about cell towers and trends in wireless infrastructure.
We can also help you with any technical or lease related questions you may have regarding your cell towers or cell sites.
AirWave Management
888-313-9750
Don't Get Burned On A Cell Tower Lease Buyout.
Post Your Lease Buyout Questions Below
On Airwave Management's
Cell Tower Lease Buyout
Q&A Blog and Forum
Are you a cell site landlord with a question or comment about selling or perhaps purchasing a cell tower lease? Have you been approached by a lease buyout company offering you a perpetual easement to purchase your cell site lease rental stream? This is not a blog for shameless self-promotion by industry sales reps. Although we appreciate your participation, if you work for a lease buyout company, this is not a place to toot your own horn or bash your competition. Please keep it informative and on topic. Thanks! Lets hear your question.
What Other Visitors Have Said
Click below to see contributions from other visitors to this page...