Cell Tower Leases:
Don't Get Burned in 2013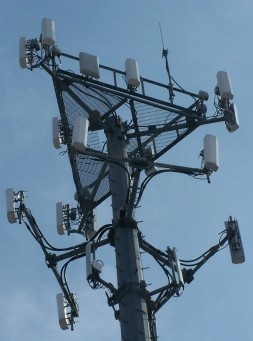 In need of cell tower lease expertise? Negotiating cell tower leases, maximizing cell site leasing values and providing solutions to complex carrier problems is what we do for cell site landlords in the USA. Unfortunately for property owners, a wireless landlord's biggest obstacle to achieving success when negotiating with cellular carriers or the cell tower companies is finding the right information to achieve the desired outcome. Hiring a wireless industry expert that is knowledgeable, experienced, truly independent and has no conflicts of interest is nearly impossible. Getting cell phone tower leases reviewed by a professional can also be a very expensive proposition. If you are not careful in dealing with the carriers and cell tower companies, you may easily get BURNED on your cell site rental agreement. If you need to talk to a cell tower expert about your lease, landlords and property owners, look no further. AirWave Management, with nearly 40 years of combined cellular leasing and tower development experience makes dealing with the cellular carriers painless, EASY and ridiculously affordable. We are the nation's premier independent cell site leasing experts, and we would like to speak to you about your particular scenario.
CELL TOWER LEASE >> SHOCK!
Landlords, here's an alarming figure. At least 25% of all cell site leases and rooftop cell sites are non-compliant with their carrier lease agreements! Ever wonder what those carrier contractors are doing on your rooftop? What equipment are they swapping in or out? To learn more about this shocking statistic and what landlords and property owners can do to make the carriers lease compliant, please visit our cell tower valuation and cell site audit page. You can potentially add thousands of dollars per year to your current rental stream.

We Assist Property Owners, Landlords and Municipalities With:

• Determine fair market value for cell site lease rates
• Cell site 4G LTE upgrades and modifications
• Rooftop Cellular Site Audit
• Rooftop cellular site lease review
• Assessment and negotiation of all cell site leases
• Cell phone tower ground lease negotiations
• Rooftop cell tower lease negotiations
• Cell site lease amendments
• Cellular tower co-locations
• Expiring cellular tower lease renewals
• Cellular tower lease valuations
• Cell tower lease buyout negotiations
• Assessment of cellular lease buyout offers
• Assistance with cellular lease "Rent Reduction" solicitations
• Cell site lease management and administration
• Cell tower lease bids for municipalities
• Tower buyout purchase bids for municipal cell site leases
• Evaluation of MD7 & Black Dot Wireless cell site "Lease Optimization" proposals
• Solutions for complex cell tower leasing issues

Talk to the Cell Site Leasing Experts at AirWave Today!
Call us Monday to Friday between 8AM and 6PM Eastern Standard Time from all 50 States and Canada. We take the pain out of reviewing and negotiating cell tower leases.
It's easy, dial 888-313-9750 or press this high-tech button.
What our landlord clients had to say...

"A breath of fresh air." -- Building owner

"You guys ROCK! " -- Arena owner

"You added a level of depth that my attorney simply could never provide." -- Landlord


"When negotiating my cell site lease, it really helped having telecom Pit Bulls like you on our side to deal with the Wireless Wiseguys." -- Property owner



Who Needs Our Cellular Phone Tower Lease Consulting Services?


• Landlords and real estate attorneys, do you need a cell phone tower lease reviewed in 24 hours or less?

• Reviewing a cell tower lease and are you clueless about local rates and fair market value?

• Need to maximize the value of your proposed cellular tower lease?

• Are you a municipality requiring expert guidance on cell tower development and related cell site leasing matters on town owned properties?

• Not sure if the rental offer or leasing terms that you got from a cellular carrier are fair?

• Has the cell tower site acquisition representative given you a low-ball offer that you feel is below fair market value?

• Is your cell site lease expiring?

• Do you need a cell phone tower leasing expert to negotiate your cell tower lease buyout on your behalf?

• Are you purchasing a building or property in foreclosure and have questions about existing cellular ground leases or rooftop antenna leases that are already in place on the site?

My name is Steve Kazella, President of AirWave Management, and we hopefully are a breath of fresh air for cell tower landlords who are frustrated in finding knowledgeable and honest guidance in the wireless leasing industry.

We are a leading Cellular Tower Lease Consulting firm serving landlords and property owners throughout the United States, based in the New York City Metropolitan Area. We founded AirWave Management in 2008, because we were fed up with the lopsided playing field that the cellular carriers had created for landlords, primarily by allowing outrageously deceptive business practices currently being utilized by many carrier subcontractors trying to convince cell tower landlords to re-negotiate, restructure or sell their cellular antenna leases based on scare tactics.
Can You Answer "YES" to Any of the Following Questions?


• Have you been approached by a cellular carrier or real estate site acquisition or leasing agent about your property or rooftop and is your gut telling you they are low-balling you on the cellular site lease's rental terms?
• Are you currently negotiating a cell phone tower lease from Verizon Wireless, T-Mobile, AT&T, Cricket, US Cellular, Sprint, Clearwire, Metro PCS, LightSquared, Rogers Wireless, Telus Mobility, WIND Mobile, Bell Mobility, Crown Castle, American Tower, SBA or Global Telecom Partners and are frustrated with their legalese?
• Have you been contacted by a Cell Tower Broker, Wireless Hedge Fund or Cell Tower Buyout Lease Management Firm to sell your cell tower lease and need the lease buyout offer analyzed or get a second opinion or better pricing options?
• Have you received letters or solicitations from companies like Black Dot or Md7 to convert or adjust the terms of your cellular tower lease which would reduce your rental payments on an existing cell site lease and need assistance in negotiating cell tower leases directly with them?


If you answered "YES", Contact AirWave Management Today and speak to a cell tower leasing expert.


Our cellular tower leasing specialists will help you cut through the confusion, level the playing field with the carriers, protect you from property tax increases and most importantly maximize your cellular rental revenues and overall profitability of your cell site.

Reviewing and negotiating cellular tower leases calls for a specialist, a cell tower lease consultant with a track record of success and integrity. Airwave's Partners have four decades combined experience reviewing and negotiating cell phone tower leases and are the experts you should consider hiring to guide you through the cell tower leasing process.
AirWave Management looks forward to being the cellular tower lease expert you turn to. We hope to hear from you soon. Please fill out our contact form on this website for immediate assistance.

Does Your Municipality need Cell Tower Lease Consulting Services?
Our Cellular Site Consultants Review and Negotiate Cell Tower Leases for Property Owners and Landlords in all 50 States and Canadian Provinces.

Please bookmark our website and call us today.

Many thanks!
Steve Kazella, President
Airwave Management
Cell Tower Leasing Experts in the USA and Canada

Airwave Management the T-Mobile Lease Experts Landlords Choose When It Comes Negotiating a T-Mobile Cellular Lease.
Our Cell Tower Lease Consulting Services Are Available Across the United States
Cell Tower Locations | How To Get a Cell Tower On Your Property
Cell Tower Lease Rates Exposed
Our cell tower valuation will help you understand what your cell tower lease is worth.
Landlord FAQs Answered about Cell Tower Lease Agreements.
Cell Tower Leasing Discussion moderated by the Airwave Management Cellular Tower Leasing Professionals.
The Disturbing Truth About Cell Site Lease Buyouts is Exposed Here. Ask us a Question On Our Cell SIte Lease Buyout Forum and Blog.
Get A Second Opinion Before The Cell Tower Lease Buyout is a Good Idea - AirWave Management Can Help.
We offer professional cell tower lease prepayment offer review and negotiation services.
Airwave Management | Md7 and Blackdot Assistance for Cell Site Landlords
Make sure your LTE upgrade lease amendment is fair and balanced.
Cell Tower Lease Scams. What about Lease Optimization and Rent Guarantee
Lease Optimization and the chances of your Cell Site Lease being terminated.
Cell Tower Lease Consultants, We Make Negotiations Easy
Contact Airwave Management for leasing information on Concealed Cell Towers.
Verizon Wireless Cell Tower Lease Review and Negotiation Services
ATT Wireless Cell Tower Lease Review and Negotiation Services for Landlords and Property Owners Who Have AT&T as their Tenant.
Metro PCS Cell Tower Lease Review and Negotiation
Airwave Management | T-Mobile Cell Tower Lease Review and Negotiation Experts For Property Owners and Landlords
Talk to the Sprint Lease Consultants and Cell Tower Experts
For help with your US Cellular lease, there is no better Cell Site Consulting Firm to turn to than Airwave Management.
Sprint Nextel Cell Tower Lease Review and Negotiation by Cell Tower Leasing Experts.
What typical cell tower lease agreement terms get overlooked most frequently?
Cell tower hunters >> Share Your Cell Tower Pictures on our Forum.
AirWave Management makes Negotiating a Cell Tower Lease EASY.
Testimonials of Completely Satisfied Cell Tower Leasing Clients We Have Served
Airwave Management is an independent and carrier neutral cell tower lease consulting firm serving landlords in the USA and Canada.
Clearwire Cell Tower Lease Review and Negotiation Experts | Airwave Management
Airwave Management | Cell Tower Land Lease | Review and Negotiation Services
Airwave Management, leading providers of affordable cell site management services without the carrier conflicts of interest.
When Negotiating a Cell Phone Tower Lease, Do Not Bring a Knife to Gun Fight.
AirWave Management Provides Cell Tower Lease Assistance for Landlords | Contact Us
Cell Tower Leasing Answers About The Future of Cell Site Leases
Exposing how some Cell Tower Companies take advantage of landlords and property owners.
The Cell Tower Lease Blog provides updated content information about Airwave Management's Wireless Services.