Sometime in 2010 you visited our site Cell-Tower-Leases.com and subscribed for our newsletter. We appreciate it and unfortunately have been too busy to publish a newsletter on this site.

Our firm, Airwave Management also operates a second site, Cell-Phone-Towers.com where we publish a newsletter several times per year.

2010 has been a great year for Airwave. We've helped landlords in just about every state in the USA. We've had tens of thousands of visitors to our website and well over 100,000 page views, and we would like to thank all of you.

If you are waiting for a cell tower company or cellular carrier to review your property, you may want to try submitting your property or building information directly to them.

You can do that all in one place here:

https://www.cell-tower-leases.com/Cell-Tower-Locations.html

Check out all of our newest You-Tube videos posted on our Facebook Fan page, and follow our industry related posting on Twitter to keep up with what's going on in the wireless industry.

Find Airwave Management on Facebook.

Follow Airwave Management on Twitter.

All the Best,



Steve



Stephen L. Kazella | Partner
Airwave Management LLC.
888.313.9750 | Voice - Fax
95 W. Main St. Suite 5-139 Chester, NJ 07930




AirWave Clients Get Results.
Call Us. The Initial Consultation is Free.

We now provide the same cell tower leasing expertise to Canadian landlords as we've been delivering for wireless landlords in the United States. Bell, Rogers and Telus have their own hired guns to get THEM the best terms... shouldn't you? Follow the Canadian flag to our Canadian page.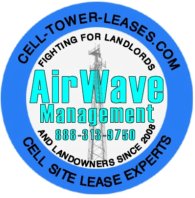 We help landlords and property owners in the USA maximize cell site lease values and get the best possible terms on cell tower lease agreements, lease extensions, 4G and LTE upgrades, lease amendments and lease buyouts with Verizon Wireless, AT&T, MetroPCS, T-Mobile, Sprint Nextel, US Cellular and Cricket.